Mortgage leads are vital for the prosperity of every mortgage company. In addition to other methods of lead generation, the acquisition of leads from third-party sources is essential to stay competitive. Lendersa® brings you a complete list of all the mortgage lead generation companies to obtain fresh mortgage leads. Find out where to buy leads and the anatomy of leads. What is the difference between good and bad leads and how some bad leads for others can be good for you and vs. versus?
Why do mortgage brokers need leads?
Mortgage leads to lenders are like gasoline to a car. Mortgage leads are the bloodline of every broker and lender. For wholesale lenders, leads are mortgage brokers and real estate agents; Lendersa® provides connections to hard money brokers and real estate agents close transactions. Register now and start getting Free leads today!
There are a few valid methods to acquire mortgage leads mortgage brokers should attempt on their own. The most direct and fastest way to get mortgage leads is to purchase fresh leads of prequalified and incentivized borrowers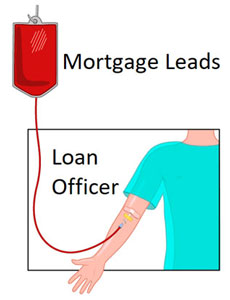 Before we dive into purchasing leads from third-party vendors, let's take a look at other methods of acquiring leads:
Methods to acquire leads:
| Method | PRO | CON |
| --- | --- | --- |
| Website, Local SEO, Blog | Get FREE exclusive leads | It takes years to develop and must be constantly monitored, updated to remain relevant, and ranked on the first page of Google. Unless you are a big company, this method is limited to local area only |
| Adword, Facebook ads, other internet ads | Get fast results if done correctly. Google ads are more direct, and Facebook develops brand awareness | It could be expensive and inefficient. Your landing pages must be optimized to process the incoming clicks. |
| Social media | Bring Free leads when implemented | It takes a long time and constant care to bring results. Your landing pages must be optimized to process the incoming clicks. |
| Paper, Radio, TV, Magazines | Bring good leads from a targeted audience | Expensive and unpredictable results if not tested beforehand. |
| Email campaigns | Inexpensive when using existing lists | Spam filters cut 99% of all unsolicited emails and make it very difficult to reach potential clients. |
| Personal connection | Extremely valuable, the best possible leads! | Limited by experience and connections |
| Real estate agents | Effective, get exclusive reliable leads that stay with you | It could take years to develop a relationship with real estate agents |
| Referral from other mortgage brokers | Excellent quality and control from leads referred by other mortgage brokers. (Only for hard money loans and commercial loans leads) | You need to share the profit and work through the referring broker. |
| Branding, word of mouth, name recognition | Excellent! Branding to a company is like the personal connection to the individual and produces the best leads from loyal borrowers. | It mainly applies to bigger size lenders and could take a long time to achieve |
| Phone calls from targeted list | Doubtfull practice that is despised by consumer I general but tet could net some good leads | Will bring you lots of complaints and fake leads |
| Purchase leads | Immediate lead generation | Sporadic results based on the lead source and budget restrictions |
Is one mortgage Lead source enough?
Lenders should practice all the above methods to remain relevant and achieve prosperity. It is not always possible to engage in all the lead acquisition methods at once. Neglecting few methods for an extended period could spell disaster and sooner or later will cause the company to fail. The degree and timing of implementing each method is the success formula of every successful mortgage operation.
The more leads you have, the faster you grow and the bigger you get. Your company size and growth rate are directly derived from the quantity and quality of leads. Lending sources and personnel will increase to handle the flow of leads, and it is the leads' flow that determines the company size and its success.
20 lead generation companies to consider
We compile a list of 20 lead generation companies for you to check out.
Disclaimer: The list aims to help loan officers, lenders, and mortgage companies acquire mortgage leads. Lendersa® is not affiliated with any lead generation companies on the list and does not endorse or rebuff any of them. The description of services offered to loan officers and mortgage companies was taken directly from the companies website. Click the company name links to explore details on the service and pricing of each company.
Mortgage lead generation companies
| | | |
| --- | --- | --- |
| Bold Mortgage | | BoldMortgage makes it easy to generate leads and build a pipeline of prospects fast. Our marketing experts will handle your ad campaigns while you focus on closing more deals Receive a mix of refinancing and purchase leads each monthProven landing page templates that convert. |
| Exclusive leads agency | | Quality of Our Live Transfer Leads, From small to big clients, we've found 100% satisfaction with our live transfer leads. We Track Your Cost Per Acquisition with You. No matter is a lead costs $5 or $1000, what matters most is how much was spent to get a case. Your cost per acquisition matters to us. We're Looking To Partner NOT Simply Send You Leads. We schedule quick weekly, or biweekly status calls to see if there are any issues or areas we can improve. |
| Empower Funnels | | Exclusive Mortgage Leads, Done Right. The lead-buying models of Zillow and Realtor.com are dying. As mortgage lead generation companies scramble to find ways to squeeze loan officers for more money, quality is eroding, and truly exclusive mortgage leads are harder to identify When you work with Empower, knowing your mortgage leads are 100 % exclusive is made VERY easy for you.Starting with the live demonstration, we show you EXACTLY how we generate every Lead and give you your own exclusive page, Google Ads account, and backend login to ensure you're receiving only 100% exclusive mortgage leads. However, most marketing companies that sell "exclusive" mortgage leads will not be this transparent, so you may have to get creative. |
| Exclusive Mortgage Leads | | The Benefits of Our Exclusive Mortgage Leads 100 % Exclusive Mortgage Leads, Non - Incentivized Leads, Guaranteed Fresh, No Setup Fees Mortgage Leads Sent in "Real-Time" Multiple lead filters including HARP, FHA & VA! When researching a mortgage lead company, it is critical to work with a lead company that not only has long been established within the industry but can also provide you with the Mortgage leads you need to close more loans.We take pride in the fact that Exclusive Mortgage Leads is not only one of the pioneers of internet mortgage lead generation but also the standard by which other Mortgage lead companies have tried to emulate. |
| Experian | | Improve the quality of your mortgage leads and close more loans. Now you can increase your margins by targeting only the types of mortgage leads you need. Experian's Mortgage leads generation delivers a targeted list that provides you with the most commonly requested home/mortgage data selections available. There's no need to sort through hundreds of field selections. We've put all the data you need at your fingertips. Ideal for banks, savings and loans, credit unions and mortgage originators — any organization looking for Mortgage or refinance prospects. |
| Inbound Prospect | | Congratulations! Your Search Is Finally Over. The same old Mortgage Leads sources just don't cut it. Now more than ever, you need a dependable, proven, Pay For Performance, direct mail-based Mortgage Leads partner, not another inconsistent online or live transfer telemarketing lead provider who puts all of the marketing financial and performance risk on your shoulders. You've finally found a reliable, world-class Mortgage Lead generation partner in t who can consistently provide high conversion. We provide both Mortgage Purchase Leads and Mortgage Refinance Leads for nearly every loan underwriting criteria. |
| Lead Advisors | | Our mission is to earn your business for a lifetime by providing you exceptional customer service and the most important, the marketing you're looking for. Our Lead Quality Assurance team is assigned to monitor every call that is being generated for you to ensure a high - quality filter, so you're not burning your money and your TOP AGENT's time on NOT qualified leads. We prescreen and qualify every Lead and prepare them for you, so you're not wasting money on "qualifying the parameters" of your products or services, and we can make it specifically for your industry and your business! |
| Lead Planet Company | | Mortgage Leads for Sale Are you looking for quality mortgage leads for sale that perform better than buying brokered leads ? We offer exclusive mortgage lead programs that connect you with loan applicants that are online searching for loan professionals that offer your services. The contact rate on our leads averages above 80 %.The Lead Planet has been in business with mortgage leads for sale since 1997. Our lead generation team can create a marketing strategy that includes buying quality mortgage leads that convert better than our competition. |
| Leadpops | | To Every Mortgage Originator Who's Sick & Tired Of Dumping Money & Time Into: Google Ads… Chamber Of Commerce Meetings… Postcard Campaigns… Radio Ads… Marketing "Consultants"… Realtor Co - Marketing Schemes… Facebook… Newspaper Ads… SEO… Only To Throw Up Your Hands And Wonder… "WHY CAN'T I GET MORE LEADS?" |
| Lendersa | | The Lead on Lendersa fits the anatomy of perfect leads, exactly matching your underwriting guideline with 15 or more filters. Including the borrower's expectations filter set to be the same or below your Rate and terms. Best of all, you do not need to pay for leads if you do not close the loan! Leads are only from highly motivated borrowers and delivered super fresh to your smartphone and email, and are managed on your personal Lenders dashboard. |
| Lending Tree | | YOU'LL CLOSE MORE LOANS Instantly expand your reach. Connecting with our network of 30 million borrowers, gives you access to high intent leads you won't see anywhere else. It's like adding an entire marketing department to your company overnight. YOUR CUSTOMERS KNOW US We invented online mortgage marketing.Nearly 75 % of your audience already knows us.We've built a trusted brand that converts information-seekers into genuine prospects. STATE - OF - THE - ART FILTERS Target the type of borrowers you want, filter out those you don't. Just select the campaigns specifically designed for your underwriting guidelines CANOPY Make solid lead buying decisions with analytics through our lender portal.View real - time data for effective capacity planning and lead management. |
| Loanbright | | After 19 years in the business, we now know how to help our customers close more loans. Our new Season Pass is to help Loan Officers close MORE businesses by creating a better consumer experience and a better loan officer experience. You get your own login or "seat" on our customized dialer system. You are not "buying leads". You are purchasing a license to log into our marketing machine/marketing engine. |
| Lyncrest Media | | Lyncrest Media is a Mortgage Marketing Agency. We help Loan Officers and Mortgage Brokers double their volume per month without cold calling or referrals, all through our proprietary marketing system below. Get 100+ hot leads using highly targeted data points via Social Media advertising. Each verified Lead is completely exclusive. Facebook collects data from its users daily.We use that data to find high intent prospects in your area that are actively looking for a Mortgage Broker. |
| Monster lead | | Closing more loans starts with finding the right borrowers. We can help with that. Four proprietary algorithms comb through our database consisting of millions of records - each with hundreds of data points.And the entire database is updated every two weeks. What does this mean for you? Your campaign will only target borrowers with a high propensity to transact.That's one reason our response rate is at least 3x higher than the industry average. |
| Mortgage Bite | | Professional is the first-ever mortgage lead platform that allows Mortgage Loan Officers the ability to connect directly with consumers actively searching online for a mortgage. Loan officers identify the specific leads in the marketplace they want and make direct offers to borrowers.When you win, you get instantly connected to the borrower.Leads are always exclusive, so there is no need to fight multiple competitors for the borrower's attention. It's your Lead, just close it. |
| Mortgage Leads | | MortgageLeads.com opens you up to the largest and most diverse network of mortgage lead buyers and sellers in the industry. The MortgageLeads.com infrastructure is built on Astoria Company's proprietary lead exchange platform powered by the cloud for maximum reliability and scale. MortgageLeads.com buys and sells not only mortgage leads but also refinance, home improvement, and home insurance.Our multi - dimensional platform means better ROI for your valuable traffic. |
| Parasol Leads | | Exclusive Leads – Our leads are not recycled or repackaged. Geo - Targeting – We provide free geographical filters for all lead types. No Contracts – You're not contractually obligated to purchase mortgage leads. No Minimums – There are no minimums required.Purchase as many leads as you need to grow. Lead Guarantee – We guarantee that our leads will have correct contact information and match your filters. No Automatic Charges – Avoid surprise credit card charges. Lead Caps – Set a maximum number of leads per day you'll accept/purchase. Dayparting – Decide which days and times you want to purchase home improvement leads. |
| RGR Marketing | | What makes RGR different? Unlike our competitors, we do more than just sell you high - quality leads—we're here to help you succeed and get better results from the leads you buy. To do that, we help you hone your sales process, train your team, and improve your organization. We can make sure your salespeople are actually making contact with each Lead, asking the right questions, and delivering the right information to make the case. Some of our customers have been with us since 2004—proof that we deliver value consistently. We're responsive, insightful, and ready to help you succeed. |
| Smart Leads Media | | Partner with a 20 year veteran of the Mortgage Lead Generation Industry! Our leads are generated from borrowers online right now, keyword searching for assistance. No Gimmicky Ads, No Incentive Offers & No Teaser Rates! The goal here is to provide higher quality targeted leads while lowering your cost per funded loan and cutting down on "busy work." These are still leads, not loans, and my intention isn't to suggest these leads walk on water but rather to help your team work smarter, not harder. Making 300 calls to close 4 loans is not only cumbersome, but it is a drain on morale. I find that when working an exclusive lead generated from quality traffic where the homeowner knows they have opt-in for a call and not baited in with free offers or teaser rates that do not exist, the overall success rate speaks for itself. |
| Transunion | | TransUnion's acquisition tools help you establish which mortgage leads are eligible based on your credit criteria so you don't waste time pursuing consumers that won't be approved or are not in your geographic footprint. Advanced analytics determine which of those mortgage prospects are expected to be shopping for a mortgage in the near future or, even more timely, which consumers are currently shopping for a mortgage. With these insights generated through TransUnion solutions, you can create a targeted prescreen audience of the most desirable mortgage leads —eligible consumers who have the highest likelihood of booking a mortgage with you. |
The anatomy of a mortgage Lead
Five factors determine the mortgage lead quality:
Matching borrower's financial profile filters with your loans underwriting guidelines
Matching borrower's expectations with your loan programs rates &terms
Borrower's motivation
Exclusivity (relative)
Speed of delivery (freshness)
A and B go together and can be extracted from the Lead. A good loan officer could find a matching loan program only if all the facts about the borrower's financial standing are known. A good quality lead should include the following:
Matching borrower's financial profile with your loans underwriting guidelines
A perfect scenario that satisfied the first factor would be a full 1003 application; most leads don't have it.
Acceptable data on a good mortgage lead is to have the following items:
Property location
Property Value
Credit Score, major credit problems ( foreclosure, Bk, short sale, etc.),
Income, and how the Income could be verified? ( with tax returns, bank statements, W2, etc.),
Expenses
Liquid assets reserves
Note: Hard money lead needs only to have property location, value, and the loan amount requested.
When a mortgage lead is missing any of the above data, it becomes impossible to evaluate the effectiveness of the Lead since the loan might not be possible
Matching borrower's expectations with your loan programs rates &terms
Loan amount/cashout requested
Purchase or refinance
Borrower expectation of Rate & Terms
Borrower's expectation of closing time
Borrower's expectation of point, fees, prepay penalties, etc.
Borrowers often overestimate their capacity to get a certain loan. Borrowers listen to commercial promises of 1.5% rate and no fees and incorrectly assume that they can 1.5%. Trying to arrange a loan for unreasonable borrowers is frustrating, but a professional loan officer could many times swing the borrowers' misconception and direct them to a loan that will fulfill their purpose.
Borrower's motivation
The borrower's motivation is not always apparent from the Lead. Only a few mortgage-leads aggregators require the borrower to describe the motives behind the request.
Borrower motivation is easy to understand when you ask yourself, "On the scale of 1 to 10, how badly does the borrower want to get a loan?"
A good loan officer could motivate not-so-motivated borrowers by explaining the benefit of the loan, how much money they will save or cash out, and how the loan will solve a problem they have.
Exclusive Leads Vs. Nonexclusive Leads
Are there any exclusive leads?
Because of the proliferation of so many mortgage lead generation websites, most borrowers enter their loan requests 2-5 times on different websites. Therefore it is unlikely for any mortgage lead to be truly exclusive. It may be true that the company that sells you the "exclusive" lead selles it only to you, but by the time you get the Lead, the borrower possibly already is negotiating with other loan officers.
The price for exclusive mortgage leads could be 2X or 3X the price of nonexclusive leads, and if the exclusive leads are not exclusive, you end up overpaying for the Lead. You should test their exclusivity on few leads before committing to buy a large number of leads from one vendor.
Who needs exclusive leads?
Weak mortgage companies who cannot compete for rates, terms, and services are the prime buyers of the "exclusive" leads. Competent loan officers who know the mortgage business can handle any nonexclusive lead and bring the loan to close.
Speed of lead delivery-you snooze, you lose (How fresh is the Lead?)
The Lead will show up on your cell phone the instant the borrower completed the loan request. Borrowers expect an instant reply, and Lendersa® accommodates that demand by providing an instant loan quote on your behalf to the borrower. An instant loan quote is different than a loan estimate. Our loan quote is derived from your underwriting guideline, and it is generated automatically only when the borrower's financial profile and expectations are aligned with your programs. We do not check credit or collect social security numbers but only ask the borrowers to give us their FICO scores. The loan request, although very thorough, does not qualify as a loan application, but it is more than enough to give you a good start.
You could also see the leads live on the Lendersa® lead map.
What ingredient makes a good mortgage lead?
Instant - real-time leads; A two-day lead could be considered old and unusable.
A realistic loan scenario matching your loan program
The borrower expectation of Rate & Terms parallel the lender's Rate and terms
System to manage the leads
Guarantee of success
Purchase or refinance leads
Conventional mortgage lead
FHA, USDA, and VA leads
Reverse mortgage leads
Non-Qm Leads
Jumbo loans and super Jumbo leads
Owner-occupied and None owner-occupied leads
Second-home leads
Leads for bad credit or good credit clients
Local leads in your city or your county
You only pay if you close the deal!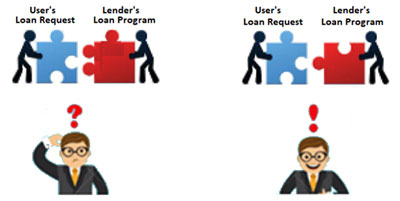 To avoid wasting time dealing with loans that you can't deliver, Lendersa® filters the Lead to your exact specification.
E.g., When you ask for leads only in certain states, you shall get only leads in the states that lend.
E.g., When you ask for the loan amount to be at least $200,000 and not higher than $900,000, you will get only leads between $200,000 to $900,000.
E.g., If you specify a credit score of a minimum of 620, FICO, you will get only borrowers with credit of 620 FICO or more.
Lendersa Loan Input Program (LIP) system guarantees your lead quality
Your Loan Input Program (LIP) is acting as a dual lead filter. You will receive only leads that are matching your loan programs. The double filter filters two things:
A. The qualification requirements for the loan
B. The borrowers' expectations for rate&terms.
In the filters graph, the green balls

represent the good leads (Good leads = leads that are matching your loan programs' matrix and Rate and terms, precisely.) Lendersa® filters out all the loan requests that don't exactly match your loan program.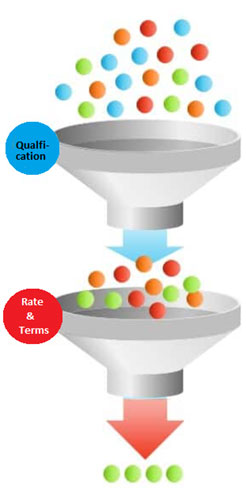 The Qualification Filter block all unmatching qualifications
The borrower's request and your loan programs must match:
Property Type (7)
Subtypes (55)
Location (2)
Max LTV
Min Fico
property condition
Loan amount
Loan position
Income and expenses
income verification
cash out
Citizenship
Occupancy
Eligibility
Funding time
Reserves
other real estates
Cash reserves
Bk and foreclosure
Purchase or refinance
The expectation filter eliminates any unmatching borrower's expectation
Interest Rate
Points
Prepay penalty
Loan Duration
Extension options
Monthly payments
Speed of funding
Loan program
Amortization type
Lendersa® precise matching between your loan programs and the borrowers' loan requests ensures that you get highly qualified leads. Each Lead must pass our rigorous qualification test of your program's matrix and approximate the pricing you offer with the borrower's expectations. Your pricing must be the same or better than the borrower's expectation.
Lead management
To make it easy for the lenders to manage the leads, we built a lender's dashboard from where you can follow up on all your pipeline and control each loan, not to miss any opportunity. You will receive notices on each lead the second it is generated. In addition to email, you could get the lead texted to your phone to start a conversation with the borrower.
Guarantee of success
If you don't close the loan, you don't pay for the lead. Lendersa guarantee is simple if you close the loan, you pay for the lead, and if you do not close the loan, you don't pay for the lead. The lead price is a tiny fraction of your commission, and it depends on the loan size and other factors. To find out about our hard money leads or our mortgage leads, log into your account or register as a lender now. Registration is Free. You must have a real estate license or other licenses that enable you to arrange loans in one or several States.
Beyond hard money, mortgage leads
Lendersa membership is FREE. The high quality of mortgage leads is guaranteed, and there are additional benefits for becoming a member:
Advanced placement in Lendersa hard money directory
File transfers to wholesale hard money lenders
Access to hard money sources
Access to hard money private investors
B2B connections to lenders
Connect to investors
Links to your website increase your SEO
High-quality lead guarantee
Custom dashboard to manage your leads
Hard money lenders become conventional lenders
Conventional brokers become hard money lenders
Connect to conventional, FHA, VA USDA wholesalers
Connect to reverse mortgage lenders
Get commissions from Non-Qm owner-Occupied lenders