True Value Financial LLC
206 Hazel Drive, Bear, DE, 19701
"We have built a strong reputation as an outstanding mortgage brokerage firm, serving the lending needs of real estate professionals, builders and individual homebuyers throughout the state. We're a full service mortgage broker with an experienced staff offering expertise in every area of mortgage lending."
Highlands Mortgage, LLC
56 W. Main Street, Suite 102-A, Newark, DE, 19702
Highlands Mortgage is committed to providing our clients with the highest quality financial services combined with the lowest rates available in your area. Our outstanding mortgage professionals will work with you one on one to ensure that you get a financial solution that is tailored specifically to meet your financing needs.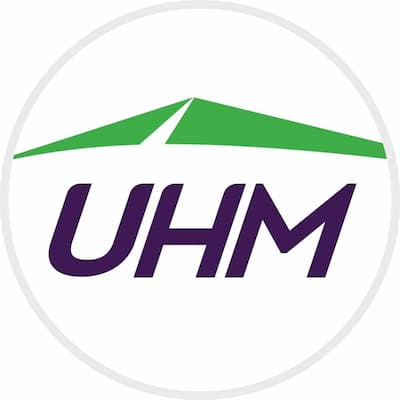 Union Home Mortgage Corp
200 Continental Dr, Suite 401, Newark, DE, 19713
Union Home Mortgage has guided hundreds of thousands of aspiring homebuyers through the process of achieving homeownership. Driven by the belief that homeownership should be accessible for everyone, we go the extra mile for every customer, while providing a personalized experience unmatched in the industry.
Pike Creek Mortgage Services, Inc.
2100 Drummond Plaza, Bldg. 2, Newark, DE, 19711
"Pike Creek Mortgage Services, Inc. has a history of providing consistent and dependable service. We are pleased to offer customized, trusted solutions to meet your home buying needs, no matter what the existing market conditions. With over 24 years experience in the mortgage industry, our qualified,"
Southwind Mortgage Services
208 Bucktail Drive, Wilmington, DE, 19808
Serving Delaware homeowners since 2005, whether you are refinancing your current home or purchasing a new home, Southwind Mortgage Services is a leader in the mortgage industry. Your most expensive asset requires a mortgage consultant who is knowledgeable is aware of your financial objectives & can tailor your needs into the best mortgage product
1 Core Financial
3710 N Market St, Wilmington, DE, 19802
At 1 Core Financial where we aim to serve your mortgage, and real estate service needs in one place with a smile. Let us find, fund, and insure your real estate ventures. 1 Core Financial has helped numerous investors and new home owners realize their financial dreams. 1 Core Financial has developed unique banking relationships
WBG Commercial Lending
488 Montchanin Rd, Montchanin, DE, 19710
WBG Commercial Lending specializes in Commercial Mortgage loans for commercial real estate including owner occupied and investment properties we offer loans of all types. WBG Commercial Lending provides commercial real estate loan solutions in Delaware, Pennsylvania, Maryland, Ohio, New Jersey ,New York and most other states.
Newrez LLC
1521 Concord Pike, Suite 100, Wilmington, DE, 19803
Newrez LLC (Newrez) is a leading nationwide mortgage lender and servicer. As a lender, NewRez focuses on offering a breadth of industry-leading products, supported by a loan process that blends both human interaction and the benefits of technology into an unparalleled customer experience.
Keystone Funding
519 S. Red Haven Lane, Dover, DE, 19901
Keystone Funding provides home loans and mortgage financing in the District of Columbia, Maryland, Virginia, Pennsylvania, and New Jersey. We are A-rated by the Better Business Bureau, and each of our Mortgage Consultants has a minimum of 8 yrs experience in mortgage origination.
1st Capitol Mortgage, Inc.
9 East Loockerman Street, Suite 207, Dover, DE, 19901
1st Capitol Mortgage, Inc. is a licensed Mortgage Brokerage in DE, MD and VA. We have been in business at the same location since 1996. As other brokerages have had to close their doors, 1st Capitol has continued to do well because of our referral based business model.By focusing on our clients' best interest we have maintained a consistent.
Mortgage Network Solutions, LLC
2036 Foulk Rd, Suite 102, Wilmington, DE, 19810
At Mortgage Network Solutions, LLC, our mission is to set a high standard in the mortgage industry. We are committed to quality customer service - putting the people we serve first. Our goal is to carefully guide you through the home loan process, so that you can confidently select the best mortgage for you
STATE FINANCIAL NETWORK
5 Hillman Drive, Suite 300, Chadds Ford, PA, 19317
"State Financial Network (SFN) is a wholly owned Credit Union Service Organization (CUSO), offering a unique blend of credit union philosophy and mortgage lending and servicing expertise. SFN has a nationwide servicing portfolio and a staff trained to handle your members in a personal, professional and efficient manner – just as you would."
Credence Funding Corporation
1200 Technology Drive, Suite A, Aberdeen, MD, 21001
Credence Funding Corporation, we treat each customer as an individual, not a number. We don't place you into a loan profile formula created by the banking industry. We use "common sense" and will help you obtain the best loan possible. We represent a wide range of "A" rated lenders with first quality rates to private "hardship" lenders.
THE RATE KINGS MORTGAGE LLC
1101 Carroll Hill Dr, West Chester, PA, 19382
The Rate Kings Mortgage LLC was started in 2009. We are a full service, licensed mortgage broker located in Pennsylvania offering competitive rates and fees. We have partnerships with a number of reputable lenders that allow us to offer a multitude of programs to meet your needs. Our service will not be beaten.
AMERICA ONE MORTGAGE, LLC
15 East High Street Suite G, Glassboro, NJ, 8028
America One Mortgage, LLC's mission is to serve our customers with honesty, integrity and competence. Our goal is to provide home loans to our clients while providing them with the best service, competitive interest rates, and low closing costs. Furthermore, we pledge to help borrowers overcome roadblocks that can arise while securing a loan.
Hawk Mortgage Group
725 N. Hickory Avenue, Suite 200, Bel Air, MD, 21014
Hawk Mortgage Group offers a wide range of mortgage solutions for your personal and commercial needs.The company has been in the mortgage industry for 45 years. He is centralized geographically and very familiar with the mid-Atlantic region. His reputation for excellence is built on delivering personal quality-focused customer care and attention.
MBA Mortgage Services
426 S Main St, Bel Air, MD, 21014
MBA Mortgage Services, Inc. started its business in 1999 as a small Maryland-based mortgage company that primarily focused on home buyers and assisting them with the purchase of their new home. During the next 10 years, MBA Mortgage has expanded its operation into three branches and nine states and now specializes in all types of home financing.
Renovation Finance LLC
2400 Market Street, Devon, PA, 19333
"RenoFi offers the first home equity loan purpose built for renovations. For homeowners planning a renovation, RenoFi loans let you borrow the most money at the best possible terms without the need to refinance your primary mortgage. This is because RenoFi uses the expected value of your home post-renovation rather than your home's current val
Rehab Financial Group, LP
1062 Lancaster Ave, Suite 15C, Rosemont, PA, 19010
Rehab Financial Group, LP is a Rehab & Hard Money Lender helping real estate investors purchase and rehab non-owner occupied 1-4 family investment properties. We provide funding for 100% of the purchase and 100% of the rehab costs. Our loans are for 12-months (interest only payments), allowing investors to rehab a property that otherwise would no
Greentree Mortgage
2 Eastwick Dr, Suite 300, Gibbsboro, NJ, 08026
You can count on Greentree to make all of the arrangements for your mortgage. There are no up-front application fees. We get you started fast by analyzing your own individual needs, and finding a loan program that fits. If you are already a homeowner, we even provide a credit report analysis at no charge to you.